Portals such as OnlyFans and Fancentro offer porn stars and erotic models the opportunity to monetize their self-produced content. Followers get to see exclusive content on the pages for a fee and can be particularly « close » to their favorite girls, for example through private chats.
In the course of the Corona crisis, OnlyFans and Co. are becoming more popular and more and more erotic amateurs are creating a profile here. We show which babes and porn stars you can currently find there and explain everything important about the phenomenon of intimate fluencers.
Also read: FanCentro: Where fans get especially close to their porn stars
Why OnlyFans is so popular with porn stars
OnlyFans.com is a platform with which content producers publish their content and receive payments from their fans or followers by taking out subscriptions. Of the around 30 million users, almost 450,000 are content producers – including numerous erotic stars.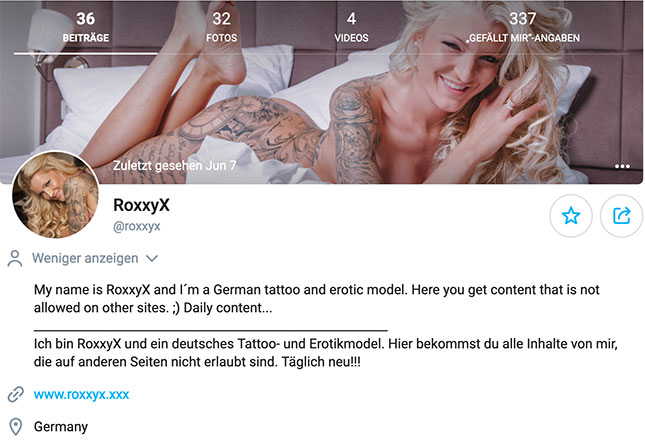 Fans can subscribe to their favorite girls and get access to their exclusive photos and videos. Mostly it is uncensored material that is banned on common social media portals such as Facebook or Instagram because of « too much bare skin ».
Many sexy girls and porn stars build a fan base on Instagram and Co. You post erotic, but youth-free content that makes you want to « more ». They then monetize their FSK18 content with OnlyFans subscriptions.
Adult actresses and nude models who build up a subscription community are commonly called intimate fluencers. Ultimately, their business model is based on selling fans a feeling of exclusivity and closeness.
Also read: Safe Porn Sites: Watching Porn Virus-Free, Anonymous, and Legally
Success with content monetization – an intimate fluencer reports
Yma Louisa Nowak is a successful intimate fluencer and speaks to Spiegel Online about her success with the content subscriptions.
The Berliner has long been registered on YouTube and Instagram, but had to struggle with the censorship when posting explicit content. She can now publish XXX content on OnlyFans without any problems – she posts there once a day.
Only two days on OnlyFans and I'm already one of the top 29% of all creators 🥺🥺🥺😍🥰

As a thank you, there is a 50% discount on the first month for the next 10 subscribers 😘https: //t.co/r5BnBSHa9f pic.twitter.com/7UOnGQBsYz

– Here ✨ OnlyFans (@curvygirlyma) January 31, 2020
Nowak's fans have to pay 14.99 euros per month for the OnlyFans subscription. According to her own information, she has between 140 to 170 followers and can live well on her income.
Other intimate fluencers also have several hundred fans and charge an average of between 10 and 20 euros in monthly fees. OnlyFans keeps 20% of the income, the girls keep the remaining 80%.
Also Read: The 15 Best Premium Pay Porn Sites For Full-Length HD Porn
More independence for erotic stars thanks to OnlyFans
Portals like OnlyFans help erotic stars to become independent from classic porn production studios. Without contracts or other dependencies, the girls can create their own content, upload it to the platforms, market themselves and set individual prices.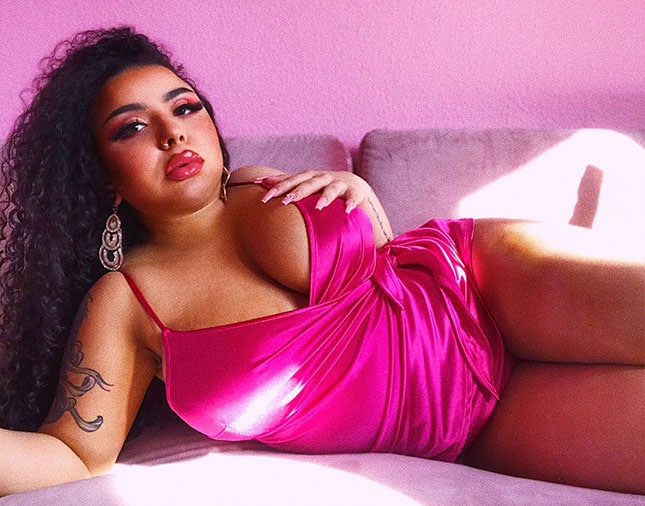 Nowak even describes this type of self-determination as "modern feminism". With her content subscription profile, the Berliner is concerned with the aesthetic representation of her body and the living out of sexuality, which is not possible on many other social media portals.
She also emphasizes that the platform is open to sexuality of all genders. Fat women, queer people, people of color and people with special fetishes upload their content here. This, too, is at odds with the porn industry, which for decades has focused on serving straight male fantasies.
Also read: Fanseven: The German answer to OnlyFans ?!
Internationally known porn stars on OnlyFans
Many well-known faces of the adult industry are represented with their own profiles on OnlyFans.com. Here are a few examples.
The blonde Nicole aniston fans of porn parodies from erotic homages to « Tomb Raider » and « The Smurfs » should be known. She also recently shot new clips for Brazzers.
Alexis Texas has over 1 million Twitter followers and more than 600 appearances in porn. With her content subscription, she regularly presents particularly dirty content.
The videos of Tiny Pornstar Riley Reid have been viewed over 1 billion times on PornHub and have won multiple AVN awards for their films. Her followers can find weighting instructions and taboo role-playing games on her payment account.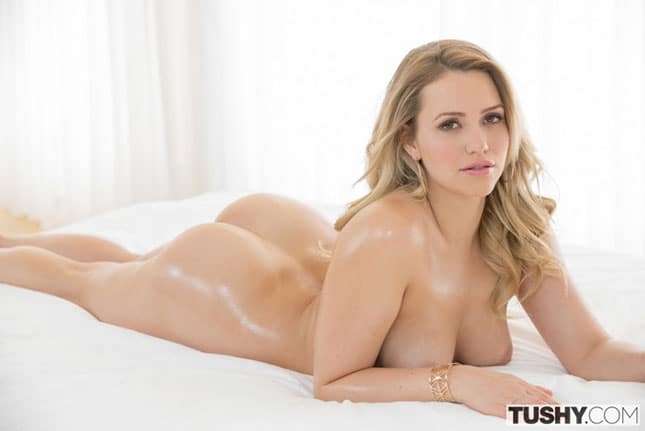 Mia Malkova is the winner of this year's Pornhub Awards for the best blowjob and is also active as a Twitch streamer. Fans of dirty geek content get their money's worth with Mia's subscription profile.
Erotic star Adriana Chechik is known for her porn shoots with fans. She has already emphasized several times that they do it better for her than some professional porn actors. With its paid subscription, Chechik dedicates itself to its followers with particularly intimate XXX content.
Lena Paul She likes to play the sexy girl next door in her erotic films. Her clips on Pornhub offer a sneak peek of what her followers can expect in girl-on-girl and couple videos at OnlyFans.
Dillon Harper has been shooting porn since 2012 and is the winner of the 2019 Pornhub Awards in the « Best Tits » category. She delights her content subscribers with videos, pictures and private chats.
Emily Willis uploaded her first Pornhub video when she was 19 and has since filmed with stars like LesbianX and BlackedRaw. She uploads new hot exclusive videos to her subscription profile every week.
Die sexy MILF Lisa Ann delights its subscribers with a huge selection of content: over 24,000 images and more than 650 videos await the subscribers.
The busty Australian Angela White is known from numerous softcore and lesbian porn. She presents her dream boobs in varied content via a monthly subscription.
Also read: Naked at OnlyFans: Mia Julia drops her covers again
German intimate fluencers at OnlyFans
If you are looking for German-speaking erotic girls at OnlyFans, it will be a little harder. Apparently the trend in this country is only just emerging. But if you look, you will find it.
In addition to the aforementioned intimate fluencer Yma Louisa Nowak from Berlin, Texas Patti, for example, has a profile on the subscription portal. The advertising face of Beate-Uhse.tv won various erotic prizes, for example the Venus Award. With their subscription, fans can look forward to particularly intimate content.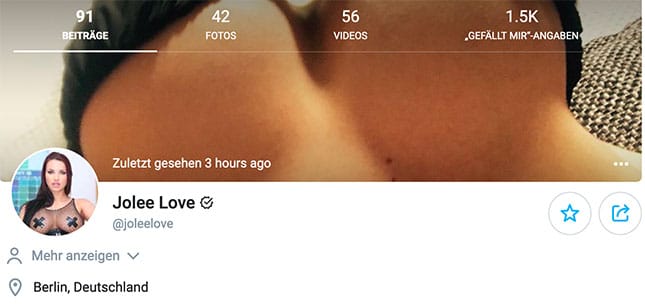 The German erotic stars RoxxyX and Jolee Love as well as the Playboy model Tanja Brockmann are also represented on OnlyFans. If you are into dominant ladies, you should have fun on Lady Luci's profile.
Also read: The 25 most popular German porn stars & amateur girls
Dangers to intimate fluencers
As lucrative and advantageous as OnlyFans for erotic models may be, the platform also harbors certain dangers.
On the one hand, the feeling of closeness that can be acquired is apparently not enough for many subscribers. Again and again, intimate fluencers report about rabid fans who demand more explicit content or private data and real meetings from the girls. It is difficult to block such harassment on the platform. The penetrative online behavior can also lead to offline stalking.
In addition, a black market is raging around the exclusive content on the portal. Although the subscription page takes special protective measures for content uploads, pictures and videos are apparently stolen from time to time: OnlyFans can read hacks and leaks on illegal platforms. The paid content is offered there free of charge or monetized in some other way, for example by displaying advertising banners.
Read also: Georgina Fleur offers erotic video on OnlyFans
Corona crisis causes massive increase in subscriptions at OnlyFans.com
Pop star Beyoncé released her track « Savage » on April 29, 2020 and raps in it: « On that demon time she might start a Only Fans ». After the publication, the traffic at OnlyFans increased by 15% and daily up to 200,000 new users and approx. 7,000 new content creators should be added. But not only the mention in a pop song recently gave the platform a push.
OnlyFans and its content creators appear to be benefiting from the corona pandemic. In April, the site reported subscription growth of 50%.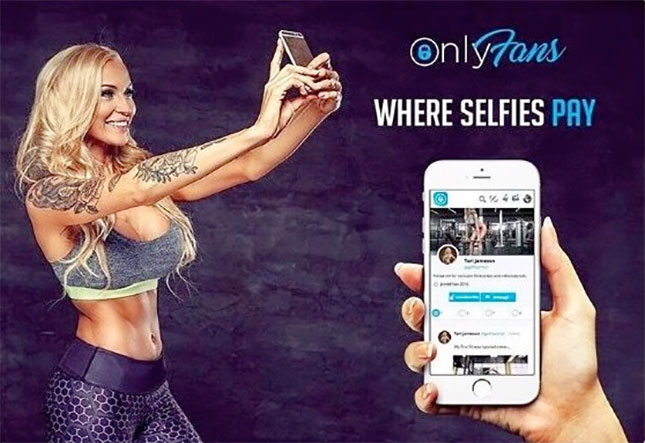 There are different theses as to how this comes about. On the one hand, traffic could have increased because people in the Corona crisis have more time to consume content.
The erotic sector in particular should benefit, as prostitution, for example, is currently prohibited. Accordingly, there are many sex-hungry men who cannot spend their money because of the brothel closings. They are now looking for alternatives and increasingly seem willing to pay for their satisfaction on content subscription portals.
One reason for the increase in content creators is also likely to be related to the corona-related closings and bans. The current standstill in the red light trade and related erotic areas is driving prostitutes, porn actresses, strippers, burlesque dancers, etc. into existential needs. They are now apparently trying to digitize their offerings via content subscription sites: strip video instead of strip show in the club, live cam with dildo instead of pornography with actors.
Also read: Porn on Twitter: Hot hashtags and accounts for sex and erotic
Online adult entertainment means hard work
There are established social media influencers who built up an online fan base before Corona. In the current crisis, it is comparatively easy for you to open a successful account with a content subscription service and jump on the erotic bandwagon.
Many emergency sex workers without any previous experience with social media, on the other hand, start from scratch. You should soon notice that it is hard work to build a community and to keep it happy: Buy costumes, sex toys, cameras and other equipment, keep posting, evaluate key figures, start promotions – all of this requires time and know-how.
But sex workers who ended up at OnlyFans out of necessity do not need to hope for solidarity on the part of well-known influencers. This is shown by the example of Caroline Colloway. Instead of showing solidarity with the sex workers in need, the influencer bragged about her success via Twitter and teased her (supposed) new « competition ». These never compete with their painstakingly built brand and their special softcore content.
For this she earned a shit storm from many prostitutes and porn girls, but the incident makes it clear: The area of ​​online eroticism is highly competitive.
Read also: Disney star was yesterday: Bella Thorne is now with OnlyFans
Similar German porn sites like OnlyFans:
More OnlyFans alternatives: